Posted in
Arts Education
,
Brain Development
,
Creativity
,
Elementary School
,
Family-School Partnerships
,
For Parents
,
High School
,
Internal Strengths
,
Middle School
,
Positive Youth Development
,
Research to Practice
,
Spotlight on Age Groups
,
Underserved Youth
on April 24th, 2011 by Marilyn Price-Mitchell –
2 Comments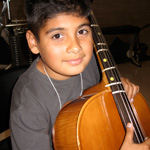 Ah, the power of music!
I was reminded a few days ago when reading a ScienceDaily research article, Childhood Music Lessons May Provide Lifelong Boost in Brain Functioning, just how powerful music can be in a child's life.
The article says music lessons can pay off for decades, even for those who no longer play instruments.  Music keeps the mind sharp, serving as a challenging cognitive exercise.
There is a growing body of research that supports how music nurtures children's success at school and in life. A study in the journal Social Science Quarterly (2009), Adolescents Involved with Music Do Better in School, found that music also had a positive effect on reading and math. And it acknowledged that disadvantaged children have less access to music. read more »