Posted in
Elementary School
,
Family-School Partnerships
,
For Educators
,
For Parents
,
High School
,
Middle School
,
Positive Youth Development
,
Pre-School
,
Research to Practice
,
Underserved Youth
on July 19th, 2012 by Marilyn Price-Mitchell –
9 Comments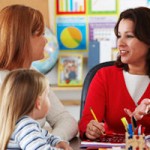 I've been an advocate for parent involvement in education for many years. But throughout those years, one of the most challenging tasks has been to define this two-way partnership.
What is it that parents and teachers need to understand about working together? And why is this partnering so important to student success?
In Invaluable Allies: Partnering with Parents for Student Success, Margery B. Ginsberg, PhD, an associate professor in the College of Education at the University of Washington, provided some informed answers to these questions.
So much of the time, we think of teaching as a one-way process. Not only do teachers impart information to students who, in turn, develop knowledge and skills, they also teach parents how to facilitate their children's learning. But Ginsberg rightly points out several assurances that parents want to receive from teachers. One of those assurances is that "the teacher is going to respect and learn from families." read more »