Posted in
Creativity
,
Critical Thinking
,
Education & Learning
,
Internal Strengths
,
Mentoring
,
Positive Youth Development
on March 11th, 2013 by Marilyn Price-Mitchell –
2 Comments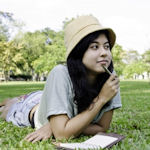 Being a skeptic has been given a bad rap in modern society. Why? Because skepticism is often confused with cynicism.
Let's explore the distinctions and why it's important to teach children the art of becoming a skeptic.
A cynic distrusts most information they see or hear, particularly when it challenges their own belief system. Most often, cynics hold views that cannot be changed by contrary evidence. Thus, they often become intolerant of other people's ideas. It's not difficult to find cynics everywhere in our society, from the halls of Congress to our own family dinner tables.
Skepticism, on the other hand, is a key part of critical thinking – a goal of education. The term skeptic is derived from the Greek skeptikos, meaning "to inquire" or "look around." A skeptic requires additional evidence before accepting someone's claims as true. They are willing to challenge the status quo with open-minded, deep questioning.
In today's complex world, skeptics and cynics are often hard to differentiate. While the ability to challenge human authority has led to important innovation and reform, it has also made it possible, for a price, to prove our "rightness." Oftentimes, what appear to be legitimate studies are manipulated to support a particular idea or outcome that a company, individual, or government believes is the truth. read more »